H
ow it all started, what's kept it going and who are the people behind the business.
Second generation ownership
Graeme Judd founded Horizontal Drilling Ltd back in 1983. For the next 32 years the company established a solid reputation in the industry. In 2015, having undertaken a rigorous apprenticeship, Ben was given the opportunity to purchase 50% of the business, a venture that would involve thoroughly updating the infrastructure of the company and bringing its drilling technology and machinery into the new millennium.
In early 2019, Graham decided to retire from Horizontal Drilling and it was agreed that a new company, Drill Rite NZ Ltd would be formed by Ben.
The current robust state of the business is testament to Ben's success in rising to the challenge. Ben has established an excellent reputation throughout New Zealand in the Directional Drilling sector, making Drill Rite NZ a highly sought after resource for commercial and residential development projects.
When he's not on the tools, Ben enjoys …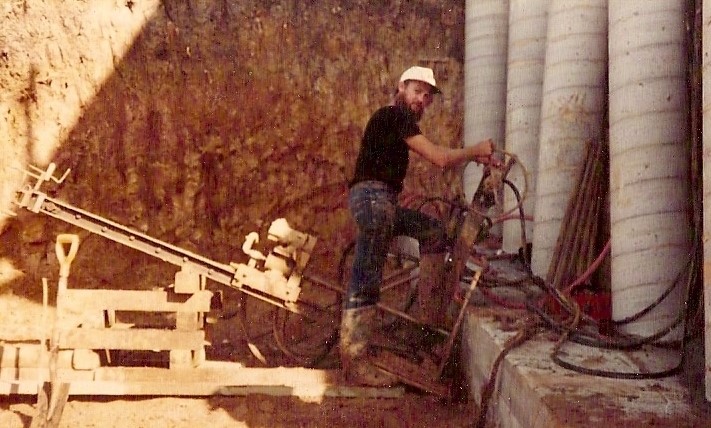 Graeme's first drilling rig
Fully Qualified Operators
Our team are highly skilled, knowledgable and have over 50 years combined industry experience.
Cost Effective Services
With the latest machinery and streamlined processes we are able to pass savings on to our clients.
Problem Solving Solutions
We always ensure we have the right systems/machinery to do the job right first time.
Years Combined Experience

We have been working with Drillrite for nearly 10 years, the crew are excellent to have on site they are competent, reliable and trustworthy, you know you can leave them to it! They are just good guys, who do a good job. They provide a good service at a fair price and always want to make it happen so it's the best for everyone. They are the ones to call when there's a challenging job / flat grades with a good out come.
I highly recommend them.
Jeremy Weatherall
Red Force Ltd
Ben Judd and his team are experienced, solution driven professionals who have supported Gideon Contractors on a number of projects over many years.
Many of the sites have had some unique and difficult challenges to overcome and we have found Drill Rite to be proactive, innovative and able to come up with practical solutions.
We prefer to work with contractors we know and trust.
Alan Bosselmann
Gideon Contractors